Build your own satellite and launch it into space
Start your journey into space with our satellite kits and rocket launch programmes

The AmbaSat-1 Space Satellite Kit contains everything you need to build your own spacecraft and our optional rocket launch packages will launch your satellite into space

AmbaSat kits are for individuals, schools, universities and commercial businesses
The AmbaSat-1 Satellite Kit delivers accessible space exploration to everyone by offering an affordable satellite development kit and rocket launch programme.
Keep up-to-date with all the latest news, blog posts and events happening at AmbaSat and in the space industry.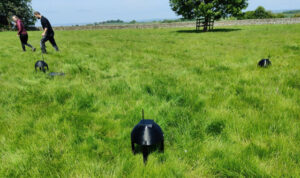 AmbaSat CO2 Monitoring System – Case Study Home Client Overview: The client is developing innovative data analysis systems to enable landowners to receive a fair
Read More »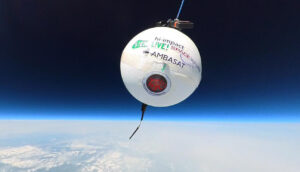 May 2023 witnessed a remarkable achievement as two AmbaSat Space Satellites soared to an altitude of 29km above the Earth's surface.
Lifted into the sky by two High Altitude Balloons (HABs)…
Read More »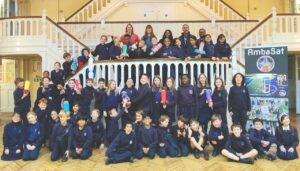 AmbaSat Rockets at Fircroft School, London Home AmbaSat 'Bottle Rocket' One-day event at Fircroft Primary School The team had a great day at Fircroft Primary School introducing
Read More »
Space Exploration. At your fingertips.
Become part of the next generation of space explorers by building your very own Low Earth Orbit Space Satellite
The revolutionary Sprite-class satellite enabling space exploration for everyone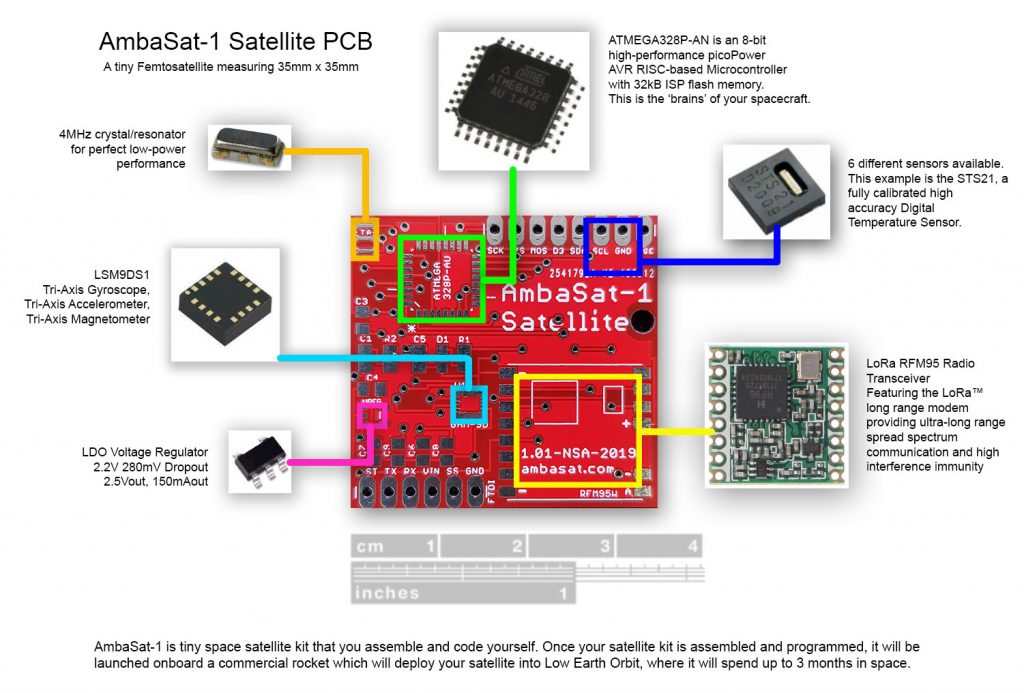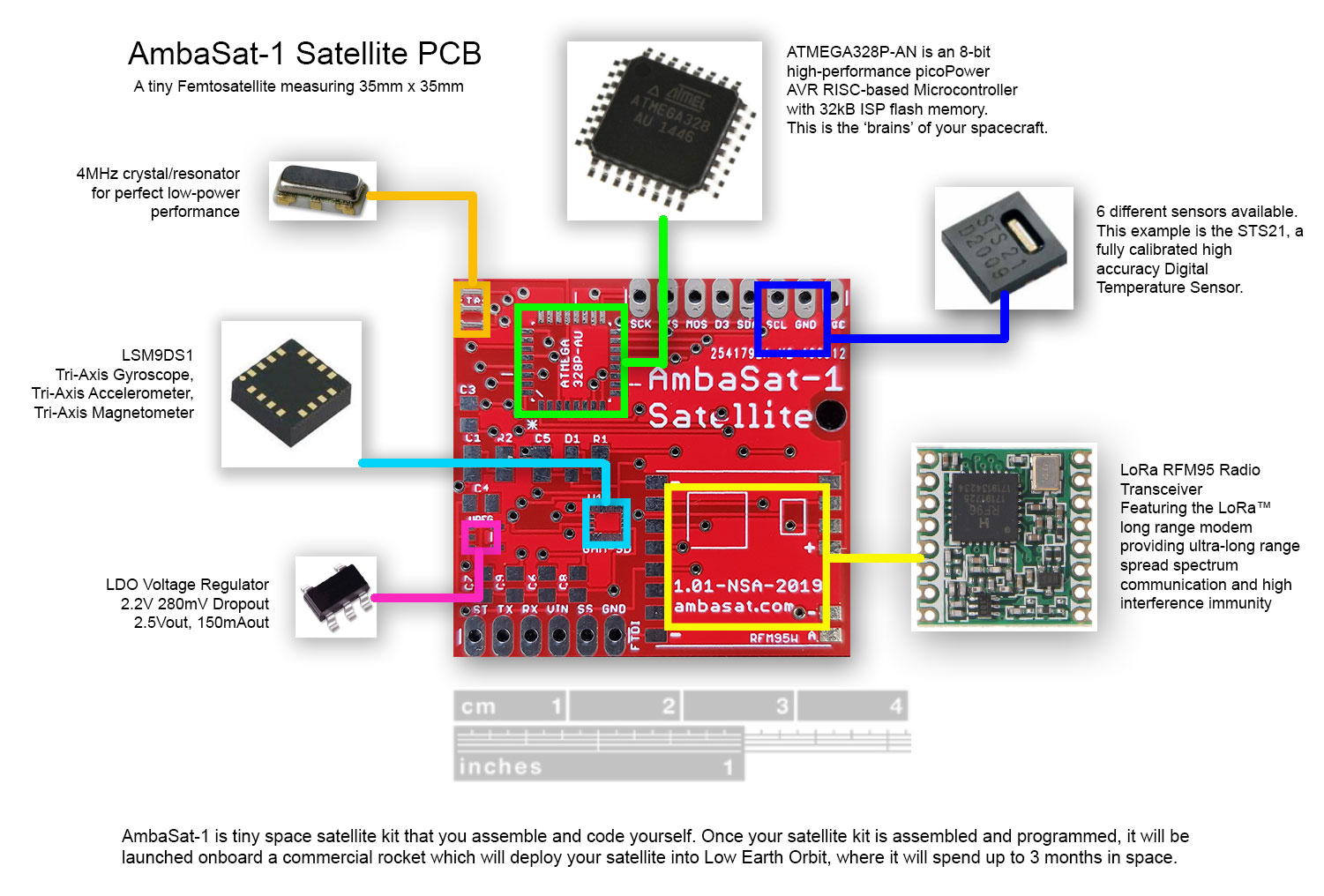 The AmbaSat-1 Satellite Kit
The AmbaSat-1 satellite is a tiny spacecraft measuring 35 mm square and just a few millimetres thick.
It's got solar cells, a radio, gyroscope and accelerometer as well as several environmental sensor options.
The Low Earth Orbit satellite transmits data to over ten thousand Earth-based radio receivers which are spread around the whole globe. No specialist radio receiving equipment is required and data received from the satellite appears over the internet directly to your web-based Dashboard.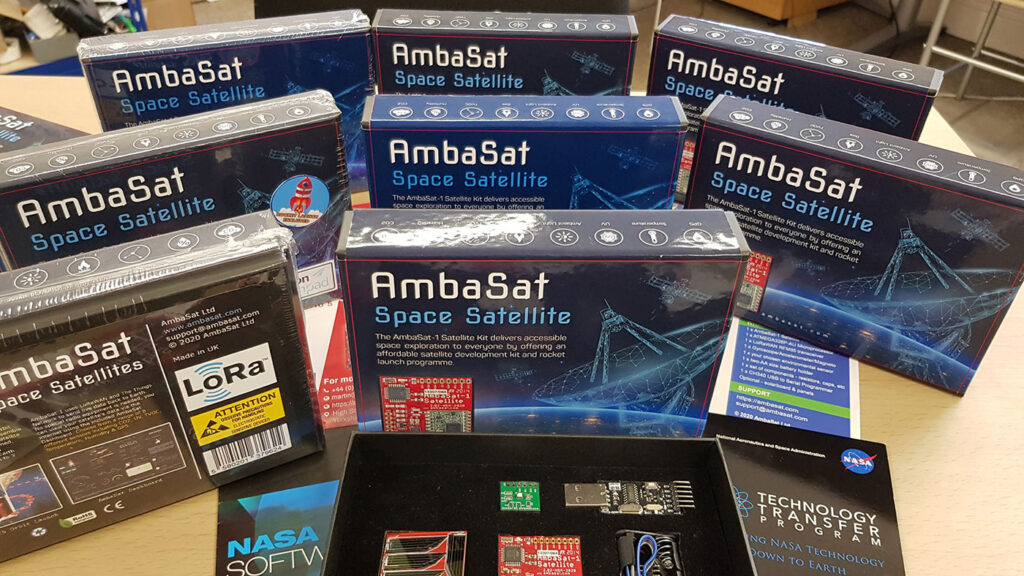 Arduino is the language of Makers!
Your AmbaSat is fully Arduino compatible and code is written using C/C++
If you've never coded before, we've included a full step-by-step guide on how to program your satellite.
Also included is full example source code plus a range of different code templates which you can copy and modify so that you can get your satellite up and running quickly and doing exactly what you want it to do.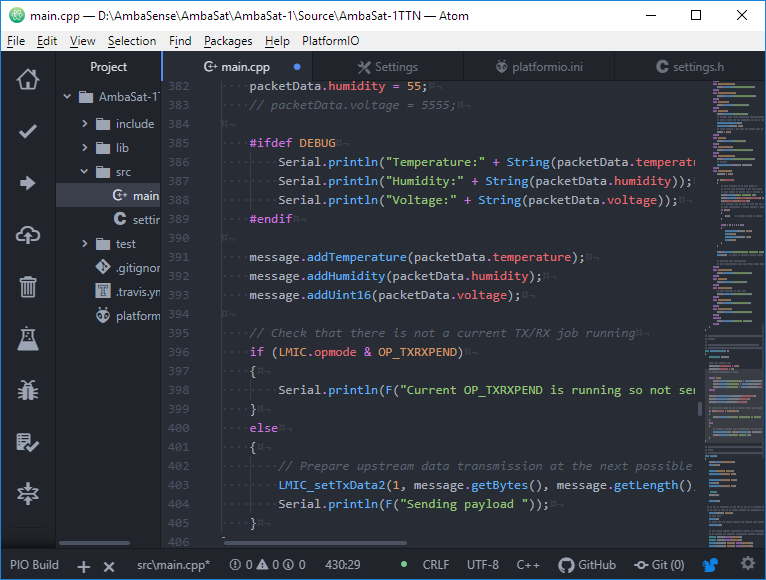 Your satellite will travel into space inside a CubeSat which holds an additional 200 AmbaSat-1 satellites.
Once in Low Earth Orbit our ground station will issue the 'deploy' command to release the AmbaSats into space, where they will become free-flying spacecraft.
Your satellite will then power itself using its bank of solar cells and you will start to receive data to your AmbaSat Dashboard
Your Mission Control Dashboard
Your Satellite's Mission Control
The Dashboard is at the heart of your Mission Control. Use it for testing, debugging and viewing telemetry from your satellite. You can also view data and graphs from your onboard sensors.
Live Video from the Launchpad
On launch day, log in to your Dashboard to watch a live video stream of the rocket launch
Access your Dashboard using any smartphone, tablet or PC.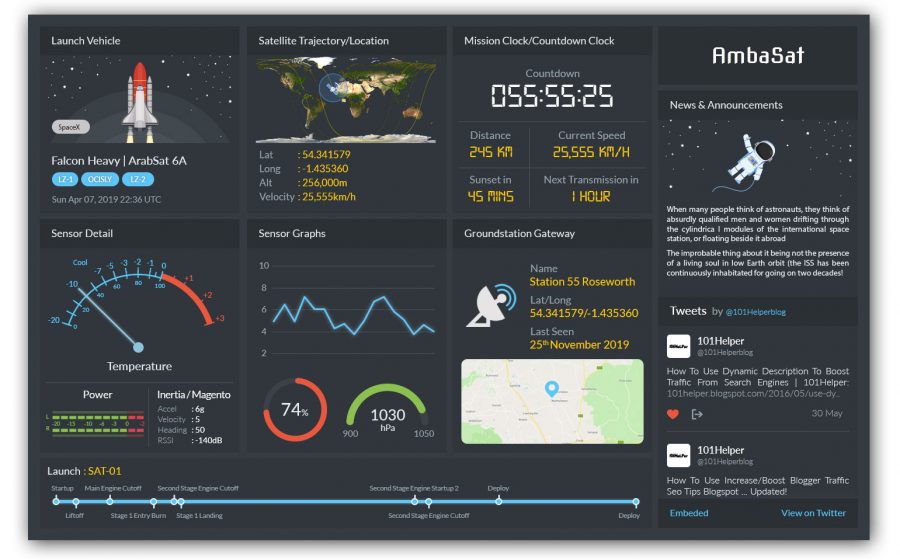 AmbaSat is Fun but also Educational
If you're new to the Maker world then during the process of building your AmbaSat spacecraft, you will learn all about the basics of electronics, including:
What a resistor does
How capacitors work
Electronics fundamentals
How to solder
How a gyroscope works
Physical computing
How to code
Arduino coding language (which is based on C/C++)
By building your AmbaSat satellite, you will be developing a cutting-edge spacecraft of the SpriteSat class. Over the coming years, these types of spacecraft will be at the very forefront of future space exploration and deliver accessible space exploration to the masses.
You'll learn REAL electronics and all about hardware and software, communications, radios, coding and much more. And you will also be taking part in a truly exciting adventure in Space exploration.
The AmbaSat-1 Satellite achieved a massive 166% KickStarter funding goal and is now available to buy direct from our Shop by selecting the SHOP NOW button below.
Who is the AmbaSat kit for?
The AmbaSat-1 Satellite kit is suitable for both experienced electronics geeks, hardware and software professionals and all the way through to those with no or little expertise.
Anyone 11-years-old and above is able to assemble their own AmbaSat-1, with a little help from an adult.
Beginners can follow our step by step guide on how to assemble your spacecraft, modify the existing code samples and program the satellite.
Building your AmbaSat-1 is just the beginning. You can spend many hours interacting with your satellite during development, trying different sensors, interfacing with The Things Network, learning about software development and experimenting with the hardware. Just imagine what you can achieve.
What's in the AmbaSat-1 Kit?
1. AmbaSat PCB – the main board where all the components are placed, including the MCU (Micro Controller Unit)
2. Micro Controller Unit – the brains of AmbaSat. This is where your code lives
3. Solar Panels – Spaceflight approved solar panels providing power to your satellite
4. Transceiver – The radio communications chip. This is the chip which will send data back to Earth and into your AmbaSat Dashboard
5. FTDI board – this is used for coding and converts your USB port to serial
6. Gyroscope, Accelerometer, Magnetometer – used to locate your satellite in space
7. A bag of parts containing resistors, capacitors, voltage regulator and other components
8. Your chosen sensor (there are 8 sensors to choose from – Sensor list)