Dear all,
We're pleased to announce that 95% of kits have now shipped. If you have not received your kit yet, then:
a) You may be part of the GPS sensor group. If this is the case, please expect an update later this month. The prototypes we had made have failed. We think it's due to RESET & VBATT connections and we are in the process of working through building further prototypes to fix the issue.
b) You may have specified a sensor which required additional payment but we have not received that payment. If so, please get in touch or we'll ship the default sensor 01 (temperature & humidity).
c) You may have requested a 'full kit' version instead of the assembled version. The accel/gyro/magneto chip (LSM9DS1) is in short supply at the moment with a lead time of 5 weeks.
If you're not in any of the above then please contact jackie.northrup@ambasat.com and she will check the status of your kit.
We're in the process of uploading end-to-end 'flight code' examples to our GitHub page. The only coding requirement is to input your device name and the session/network ids as detailed on the AmbaSat Dashboard. See the latest flight code examples from the following link:
https://github.com/ambasat/AmbaSat-1/tree/master/Release/Source/FlightCode
This coming week we're updating the Dashboard to enable full sensor dataset display and data export to CSV format. Please see the example screen grab below: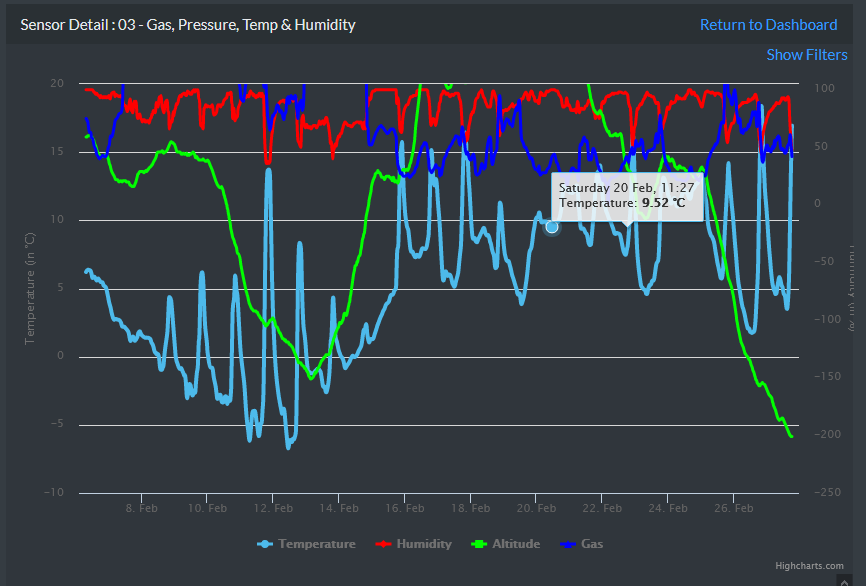 General News
We're very excited to receive the first of three AmbaSat-1 Deployers from our engineering supplier. AmbaSat-1 Deployer 001 is destined for thermal, vibration and P-POD testing. Deployers 002 & 003 will be used for educational and demonstration events and shows. The first of which will be Space-Comm Expo at Farnborough International Exhibition & Conference Centre later this year. More details are available on the blog:
We're also excited to soon be officially announcing two new partnerships. These both started in March and bring significant space, operational and technical expertise to the AmbaSat business.
As always, thank you for your support and for being a part of this exciting SPACE journey!
The AmbaSat Team.