Congratulations and thank you for purchasing your AmbaSat-1 Space Satellite Kit!
Here you will find the full step-by-step guide on building your Space Satellite
AmbaSat-1 Satellite Kit – How To : Tools
"Imagine if you could build your very own spacecraft and have it launched into Low Earth Orbit"
Your AmbaSat-1 Satellite is a fun project, but it's not a toy. AmbaSat-1 is a small but powerful Spacecraft which is designed to be launched into Low Earth Orbit.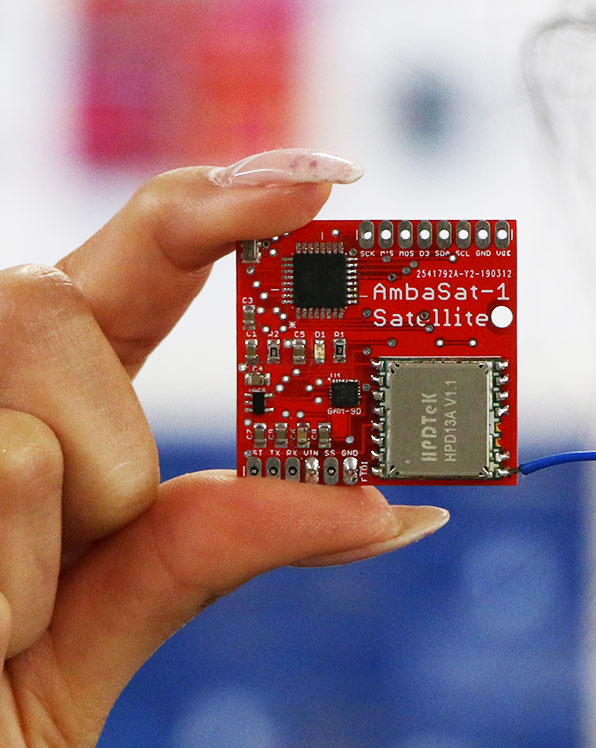 If you're new to electronics and coding then during the process of building your AmbaSat-1 spacecraft, you will learn all about the basics of electronics, including:
What a resistor does
How capacitors work
Electronics fundamentals
How to solder
How a gyroscope works
Physical computing
How to code
Arduino coding language (which is based on C/C++)
By building your AmbaSat-1 satellite, you will be developing a cutting-edge spacecraft of the SpriteSat class. Over the coming years, these types of spacecraft will be at the very forefront of future space exploration and deliver accessible space exploration for all of us, not just governments and large corporations. You'll learn REAL electronics and all about hardware and software, communications, radios, coding and much more. And you will also be taking part in a truly exciting adventure in space exploration.
As well as learning about hardware and software, you will need some REAL tools in order to assemble your spacecraft. Such as:
A soldering iron (not too expensive)
Solder
Wire strippers
Pliers
A screwdriver
A magnifying glass (not essential but helpful)
A multimeter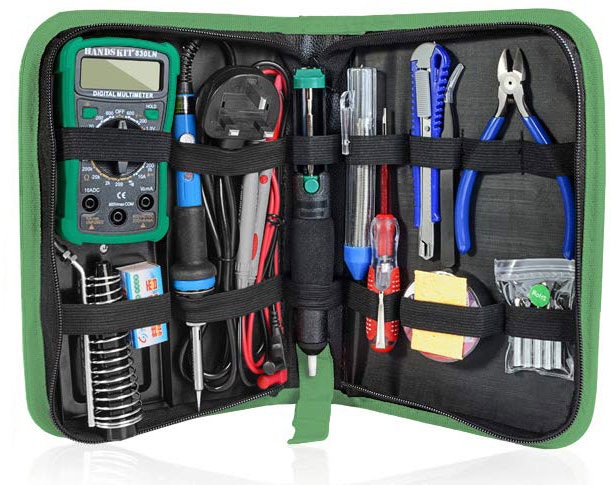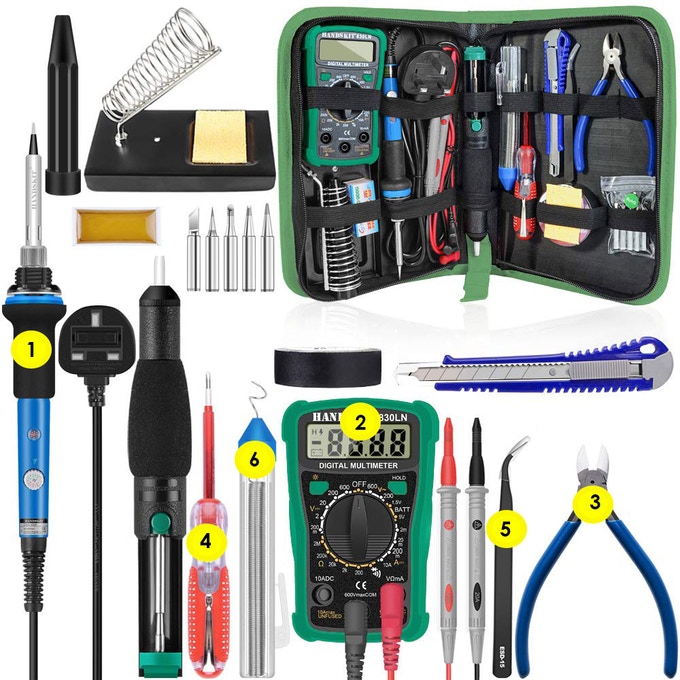 Included in the toolkit:
Soldering Iron
Multimeter (for testing your circuit)
Wire cutters
Screwdriver
Tweezers
Solder
1 – Soldering iron
The 60W soldering iron included with the kit comes with a heat setting so that you can make adjustments to the amount of heat delivered to the interchangeable tips.  Ventilation holes on the tips feature quick heat dissipation. The iron features an anti-static grip providing protection and ensuring that static does not build up on the iron itself.  The soft grip handle is made of heat-resistant material and includes indicator light and power switch. The temperature range is from 200 – 450 degrees C
2 – Multimeter
You'll need a multimeter for measuring continuity and also DC voltage and resistance. Higher featured soldering irons also come with the option to measure capacitance.
3 – Cutting Pliers
Pliers like these will enable you to trim cable, cut wires and pin headers.
4 – Screwdriver
No screws required for this project but always useful to have a 'nudge' tool
5 – Tweezers
Tweezers are very handy for placing and holding down the surface mount devices (SMDs) whilst you solder them in place
6 – Solder
A qood quality lead free solder wire with rosin core, high performance
This type of solder is often used for DIY soldering projects.
Be careful with your choice of solder. Bad solder can lead to a lot of complications like bad solder joints and unwanted bridging.
Other handy items consist of:
a craft knife
de-solder tool
Solder stand and sponge
Solder flux
Kit Upgrade
Soldering SMD components can be very tricky.  If you can afford to upgrade your kit, we would recommend:
SMD Soldering Rework Station – Soldering Hot Air Gun & Soldering Iron
The WEP-853D 3-in-1 Soldering rework station comes with a hot air gun and 30V 5A DC power supply. The solder station is controlled by a dual-core microcomputer processor and PID technology to monitor temperatures from both the air gun and iron in real time. It monitors and compensates temperatures precisely and quickly by using the built-in PID control program which keeps the temperature stable at all times. Ideal for soldering SOIC, CHIP, QFP, PLCC, BGA and temperature-sensitive components.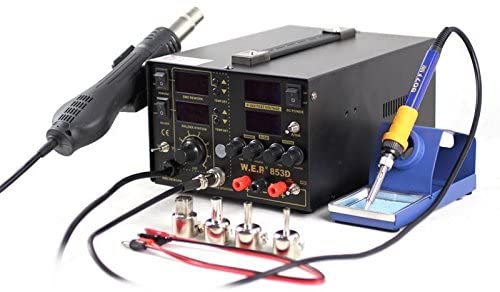 Digital Portable LED Microscope with 720P LCD Display
Magnification adjustable from 1X to 1000X and a true 5.0MP sensor to capture and save high-resolution images and videos. Excellent for viewing your circuit board and soldering, with built-in 8 white LED lights for great illumination.