We are a bunch of technology, software, hardware and environmental geeks who love technology and the environment
The people behind AmbaSat are a bunch of technology, software, hardware and environmental geeks who love technology and the environment. About two years ago AmbaSense was created by a team of three co-founders, Martin Platt, Marcel Houtveen and Daniel Hopwood who boast 30 years' experience in the environmental health and IT industries. Eight months ago they created the AmbaSat brand to encapsulate their satellite work and apply their business and technology knowledge to this new space venture. The team expanded to include several new faces and skills, including Wannapa Siripong, Environmental Chief, and John Chipp, hardware design expert.
Martin Platt, co-founder and CEO at AmbaSat comments:
"For the past three years we've delivered thousands of Internet of Things (IoT) sensors to the food and social care industries through our AmbaSense Tiaki brand. During the journey we learned a lot about the business of delivering successful hardware and software and wanted to apply our knowledge and expertise to a very different field but one with a very similar set of fundamental technology requirements."
"All our technology is designed and developed in-house, this includes the hardware, PCBs, Web Dashboards, server code, etc and all the business bits in between. We are passionate about the environment and through our sensor work have studied the impact human beings are having on our planet. We want to widen the study capabilities, both for Earth and beyond and empower users to solve complex problems with their own environmental challenges and solutions. Educational establishments, students, individuals and MAKERS now have this new tool at their fingertips. The AmbaSat satellite build is also a lot of fun!"
"Just imagine if you could build your very own spacecraft and have it launched into Low Earth Orbit, for little more than the cost of a Playstation"
A group of technology, software, hardware and environmental geeks who love technology and the environment
Martin is our tech evangelist. He's spent years with his fingers in all sorts of coding things and started his coding career by writing software for the Royal Air Force's frontline fighter jets.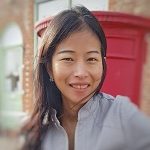 Wannapa is our Environmental Chief. She's studied everything you need to know about the environmental impact of gases, radiation, global warming and much more on our lovely planet Earth!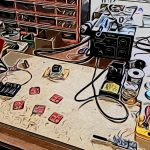 John is our hardware expert. John has over 20 years of experience in designing electronics, schematics and printed circuit boards in a wide range of applications. He knows a lot about chips.
Creating a new product can be difficult and building a new product in quantity can also be risky. Thankfully we've got experience in doing this already. Where possible we've also attempted to use a common set of off-the-shelf hardware parts so that components are easy to get hold of. We've also built the software on top of the awesome Arduino platform. There are lots of people very familiar with the Arduino hardware and IDE.
Launching something into space is a risky venture and some things are out of our control, regardless of how well we prepare. Rockets blow up, get cancelled or get postponed. We've done everything to make sure that we can meet our timeline and if there are things that start to look unlikely then we will let you know straightaway. But we are confident that solutions can always be found. That's what we do and it's the nature of our business.
We have resource capacity through our existing AmbaSense business to help with the production of the AmbaSat Kits. And because we directly control the manufacturing process, we can manage the quality of the completed kits.
We already have experience in creating, building and launching successful products and have already delivered 3000 of our Tiaki temperature sensors in 23 different countries.
We are a group of friends who are hard-working and enjoy and believe in what we do and we want to give everyone the opportunity to have their own spacecraft and explore the universe.