Arduino is the language of Makers!
Your AmbaSat is fully Arduino compatible and code is written using C/C++
Software Coding AmbaSat-1​
Every day, without knowing it, you probably use software that is written in C/C++ and big companies use it to code microprocessors, mobiles, tablets and computers and write all sorts of great apps.
Whether you're new to the 'C' language or a seasoned pro, we have all the libraries, example source code and interfaces you need to get your satellite launched into Space!
Your AmbaSat Kit comes complete with a FTDI USB adapter allowing direct coding in the Arduino IDE (based on C/C++). It's the most popular programming environment for makers and hardware enthusiasts. Follow our step-by-step guide to connect your adapter.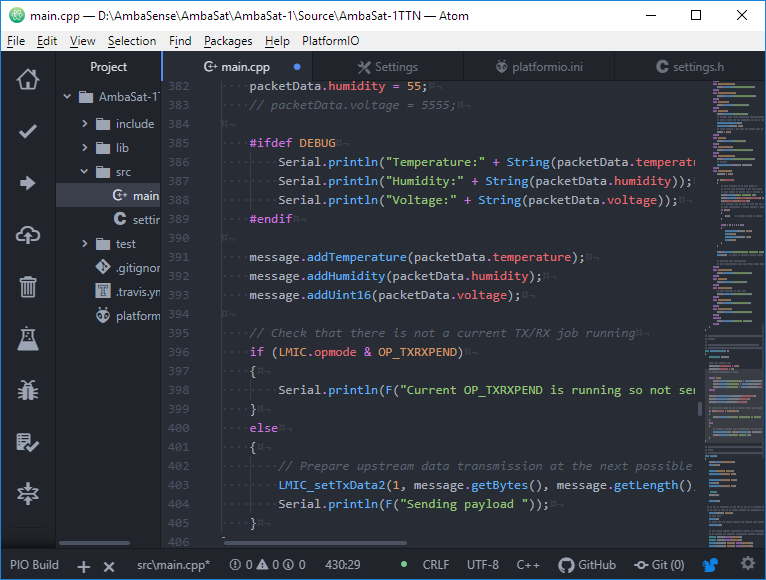 AmbaSat is fully compatible with all Arduino related code examples. That's because your satellite uses the well-respected Atmel ATMEGA-328 which is exactly the same microprocessor used by Arduino!
In fact, your satellite is compatible with all online Arduino software libraries and your code will work with Arduino shields and modules with little or no library code modifications.
As well as the Arduino IDE (Integrated Development Environment), AmbaSat development also fully supports other IDEs, such as Microsoft's Visual Studio.
Never coded before? Don't know the first thing about hardware?
That's no problem. The AmbaSat Kit build will take you from learning how to use a soldering iron all the way through to assembling and coding your very own satellite.
We've created a detailed step-by-step learning process: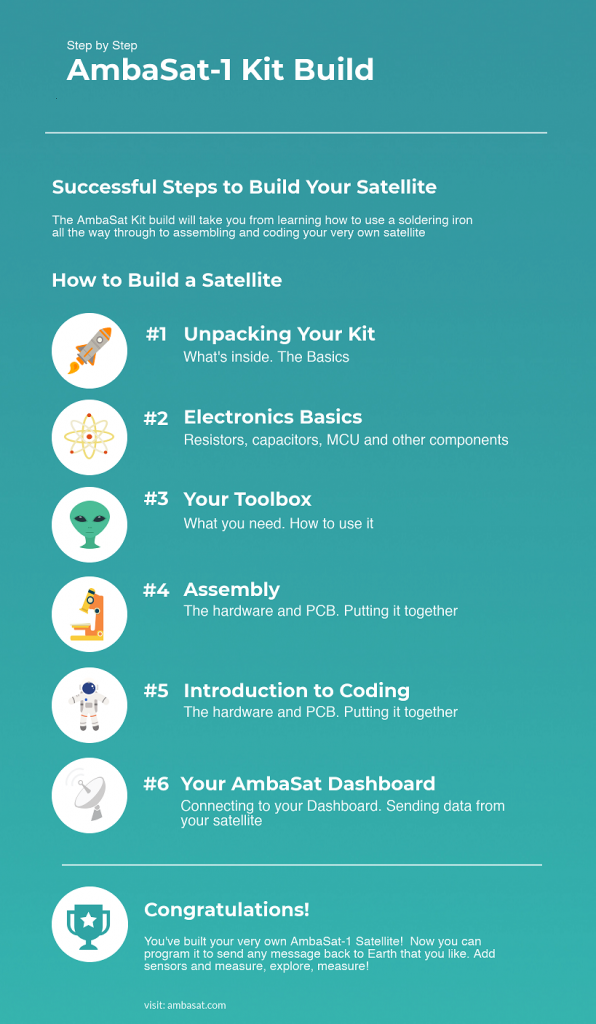 What can I do with my satellite?
Measure! Explore! Measure!
What better way of showing off your uber-cool geekness than building your own spacecraft?
Your AmbaSat is fun but it's also practical. Maybe you're just looking to put your very own spacecraft into space. That's great and also very cool. You can program it to send any message back to Earth that you like. However, if you're looking for practical applications, including studying the environmental impact of gases, radiation, global warming, etc then read on!
Every AmbaSat comes loaded with a gyroscope, accelerometer and magnetometer sensor. These sensors come in the form of an integrated chip (IC) which is called the LSM9DS1. In low Earth orbit, there is no GPS signal available so this chip helps plot your satellite's orbit in space. It's a versatile, motion-sensing system-on-a-chip. It houses a 3-axis accelerometer, 3-axis gyroscope, and 3-axis magnetometer – nine degrees of freedom (9DOF) in a single IC. See the LSM9DS1 overview section for more details on what this fantastic IC can do.
In addition to the LSM9DS1, when you select your AmbaSat kit, you get the option to choose which type of additional sensor you would like to fit onto your satellite.